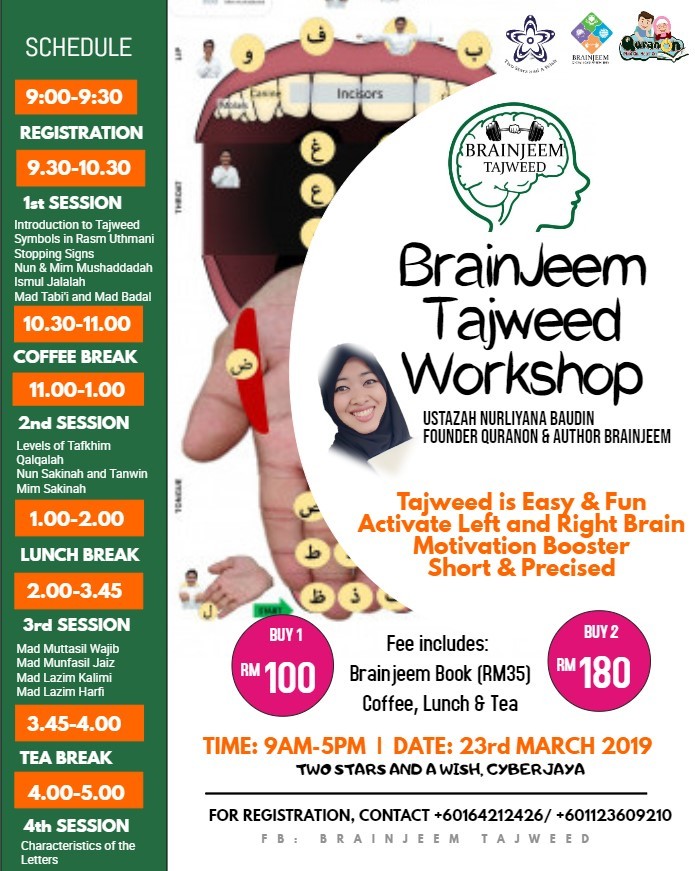 BrainJeem Tajweed and Craft Workshop
Two Stars and A Wish presents
*BRAINJEEM TAJWEED & CRAFT WORKSHOP*
Powered by BrainJeem Global Academy
Tajweed is usually associated to dryness and rigidness. Rules when reading the Quran is essential but there are too much entertainments to distract from your focus of learning. At the end of the day this emoji

describes your face the best.
Don't get lost in that vortex and join our fun-learning *Brainjeem Tajweed and Craft* where we incorporate 76 body movements and craft in acquiring Tajweed.
Brainjeem Tajweed can become:
1. Movements to define the Tajweed rulings
2. Movements to test your knowledge in Tajweed
3. Tajweed Movements as Energiser
Tajweed can be very easy and fun because brainjeem helps to;
1. Identify Tajweed rulings. When your body moves, you respond well.
2. Activate left and right brain
3. High concentration because each topic will take 3-5 minutes
Game up by using movements and the craft made and use it as a tool to play meaningful Tajweed games that will stick to your head!
Your view of Tajweed will never be the same again after this course!
Led by Ustazah Liyana, the founder of QuranOn Trilingual Games and an Author for Brainjeem Tajweed.
Limited places available. So, be quick ya.
RM100 for 1 ticket
RM180 when you purchase for 2 tickets
Note: Brainjeem book (RM35), coffee, lunch and tea are included.
BRAINJEEM WORKSHOP
Time: 9am-5pm
Venue: Two Stars and a Wish, Cyberjaya
If you have any inquiries, dont hesitate to
WA 01123609210
or
0164212426
Brainjeem: Pioneer in Tajweed Rulings' Movements
....because the first command of Allah is READ
---